National service scheme
Govt.Law college Thrissur NSS uNIT NO 166
Service to Man is Service to God – selfless service for the cause of humanity is as important as worship to God.

The National Service Scheme (NSS) was officially initiated on 24th September 1969. The Program was started during the birth centenary year of Mahatma Gandhi, the father of the Nation, who exhilarated the Indian youth to participate in the Indian Independence movement and the social upliftment of the downtrodden masses. Every year 24th September is celebrated as NSS Day to pay homage to Mahatma Gandhi and to remind ourselves that the welfare of an individual ultimately leads to the welfare of the society. The Motto of NSS is 'Not Me But You'. This reflects the essence of selfless service. The symbol of NSS is based on the 'Rath'(wheel) of the Konark Sun temple of Orissa. The wheels represent the cycle of life (creation-continuation-conclusion) and signify the movement in life across time and space. It also depicts the continuous urge of volunteers for the social transformation and upliftment.
National Service Scheme Unit of Government Law College Thrissur is an active and perseverant organization in the campus in the field of social/community service. The spirit of selfless service is inculcated among the volunteers and is spread to other students through the volunteers. Spreading happiness through community service has been one of our primary objectives. With innovative activities catering to all classes of the society, we try to create small, happy and memorable moments in their lives. Working in NSS itself has been one of the prime sources of happiness for the people associated with us.The NSS unit of Government Law College Thrissur aims to spread love,warmth and strength to all those in need and make this world a better place to live in.
NSS Unit 166
(GOVT LAW COLLEGE THRISSUR)

NSS regular activities from 1st June 2019 to 31st October 2020

Activities:

1.Seminar on the topic Planet Earth in connection with Environmental Day on 15th June 2019
2.Awareness programme on Chicken pox on 19th June 2019
3.International Yoga Day report on 21st June 2019
4.Campus cleaning And Gardening On June 29th 2019
5.Malnutrition week
6.Flood relief from GLCT NSS Unit on August 2019.
7.Observance of Ozone Day On 16th September 2019
8 .Celebration of NSS Day And visiting Autism Center on 24th September 2019
9.Declamation Speech Competition on September 27 2019
10.Observance of Gandhi Jayandhi on 2nd October 2019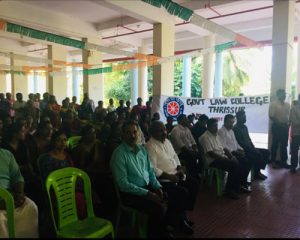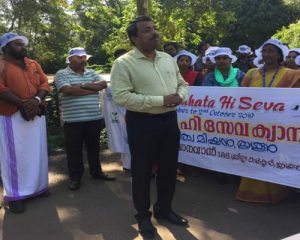 11.Participation of NSS volunteers in the activity conducted by Anti-Human trafficking club of the College on 20th November 2019