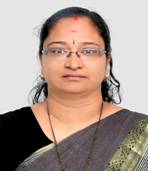 Name:
Designation:
Qualification:
JOBY BHASKER
ASST.PROFESSOR IN LAW
LL.M, UGC, NET, PGCCL
She secured LLB from Govt.Law College, Ernakulum and LLM from CUSAT. Her area of specialization is constitutional law and criminal Law and Postgraduate Diploma in Cyber Law.Now Pursuing Part – time Ph.D. under the guidance of Dr. D. Rajeev at School of Legal Studies, CUSAT .She started her career as an advocate. She worked as guest lecturer and on contract basis in SLS CUSAT for a period of 7 years. Worked as assistant professor at Bhavans Law College also. She joined the Government service as lecturer in Government Law College, Kozhikode in 2015. Working as Assistant Professor at Government Law College, Trissur from 16-07-2018 till date. She has authored articles and she presented papers and participated in various seminars, conferences & workshops at national and international levels in various legal institutions in India. She is the joint Co-coordinator of placement committee in Govt.Law College, Thrissur .She has acted as judge of various All India Moot Court Competitions also.